The new book "Rewilding in Argentina" looks at this strategy for reversing the extinction crisis
A million species at risk of extinction, extreme and prolonged droughts, catastrophic floods and fires, and the highest atmospheric concentration of key greenhouse gas carbon dioxide in the last five million years. This devastating scenario is a product of the impact we humans have on wildlife and Earth's natural ecosystems. This process started thousands of years ago with the extinction of the first giant bird and mammal species. It has worsened in recent centuries with the appearance of new technologies, reaching catastrophic dimensions from the industrial revolution onwards. In this context, rewilding constitutes one of the most effective strategies to restore the integrity of natural ecosystems and their capacity to mitigate the environmental crises currently afflicting the planet, including biodiversity loss, climate change, and the emergence of pandemics.
In pursuit of this objective, Rewilding Argentina Foundation, with the support of strategic partner Tompkins Conservation and other organizations and philanthropists, has been working for over 20 years to protect and restore Argentina's natural ecosystems. The new book "Rewilding in Argentina" explores over two decades of experience in the Iberá Project, discusses the history of rewilding, and proposes a future vision for this conservation strategy in Argentina and South America. The book is available for free on Rewilding Argentina Foundation's website from today.
Rewilding in Argentina started in the nineties at the hands of Douglas and Kristine Tompkins, who worked with Argentine conservationists and scientists to build a transformative vision in the Iberá Wetlands, in the northeastern province of Corrientes. Today, Kristine Tompkins is celebrating her legacy in the teams she helped to create in Argentina, which are now independent from Tompkins Conservation but continue to work in five of the country's provinces. Together with these teams, she took the first steps in a process that, 25 years later, would see the creation of the Iberá National Park and the reintroduction of the jaguar to Iberá 70 years after it became extinct in Corrientes province. "Rewilding Argentina Foundation exceeded all my expectations. Today, it's an independent organization that's making a real impact in its country, leading unique restoration projects in other ecosystems like the Patagonian steppe, the maritime coastline, and the Chaco region, achieving tangible results for wildlife and communities."
Argentina, as one of the South American countries that has lost the most wildlife, has a unique opportunity to become a leader in the development of rewilding. Sebastián Di Martino, Director of Conservation at Rewilding Argentina Foundation, says that "to do that, it's on us to act and get the ball rolling, not just to protect what's left, but also to recover what we've lost; there's an overwhelming need to restore our natural environments, including in places we wrongly consider to be pristine, such as national parks and other protected areas of our country."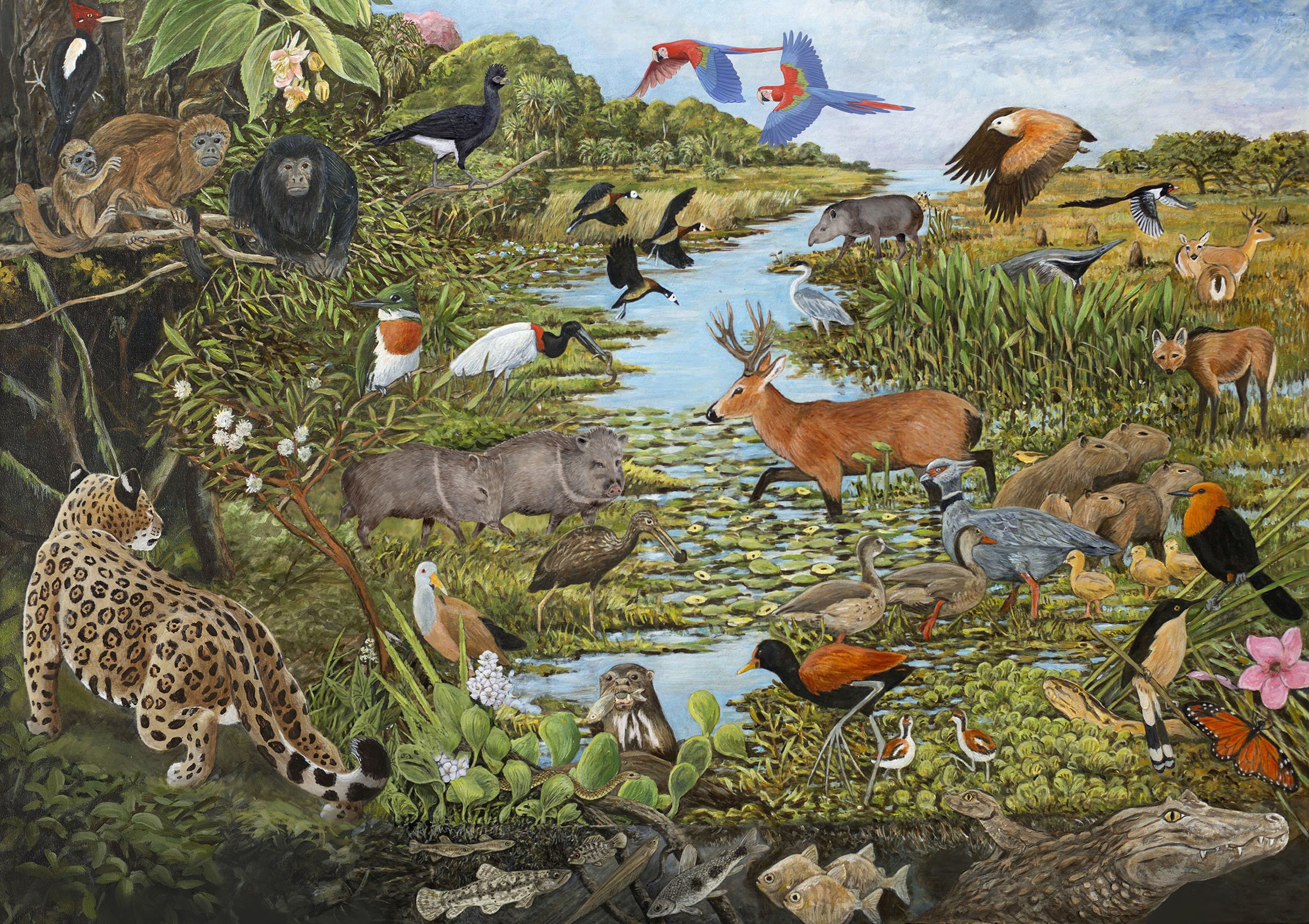 Rewilding is a novel conservation strategy that seeks to restore natural ecosystems so they are once again complete and functional. For an ecosystem to be complete, the keystone species that inhabited it in historical times must be present, and for it to be functional, these species must fulfill their ecological roles. Species reintroduction projects in Iberá are making this ecosystem complete and functional again. Illustration: Marcelo Canevari.
About rewilding
Rewilding is a restoration strategy that seeks to recover the integrity of natural ecosystems by transforming them into complete, functional ecosystems. That means the species that have been there historically are present in sufficient numbers to fulfill their ecological roles. Complete, functional ecosystems provide the ecosystem services that make it possible to sustain life on this planet, including the existence of human beings.
Complete, functional natural ecosystems also provide local development opportunities based around nature tourism involving wildlife spotting. Today, this represents an economic motor for several communities in parks all over Argentina, including Iberá (Corrientes province) and El Impenetrable (Chaco) in the north west and Patagonia (Santa Cruz) and Patagonia Azul (Chubut) in the south.
"By sharing the experience we have developed, we hope more people and institutions are inspired and encouraged to start new projects in other regions of the country and the world, to restore more ecosystems and recover the splendor of nature and the wellbeing of local communities," Sebastián Di Martino concludes.