Located in the Iberá Wetlands in the heart of the Province of Corrientes, the Iberá Project is the birthplace of the economy of nature and rewilding in Argentina.
Surface area of Iberá National Park
158,000 hectares
Surface area of Iberá Provincial Park
600,000 hectares
Total Surface area (Iberá Park)
758,000 hectáreas
Biogeographic description
Ecotone between the Paraná, Chaco, and Espinal jungle and forests.
Ecosystem
Wetland with estuaries, marshes, lagoons and large bodies of water, interspersed with grasslands on sandy rises and dotted with patches of humid forests, gallery forests, and dry forests on the southeastern hillsides.
Highlighted Conservation Values
Large grassland areas populated by endangered birds such as the strange-tailed tyrant and the black-and-white monjita, as well as endangered species such as the pampas deer, marsh deer, maned wolf, crowned eagle, and a large diversity of Paraná fish.
Notable attractions
Birdwatching, with a total of 370 species seen in the past decade. There are also large vertebrates, including the caiman, rhea, capybaras, many types of deer, (including the gray brocket), armadillos, foxes, different types of herons and storks as well as birds of prey.
Carbon Sequestered
264 million metric tons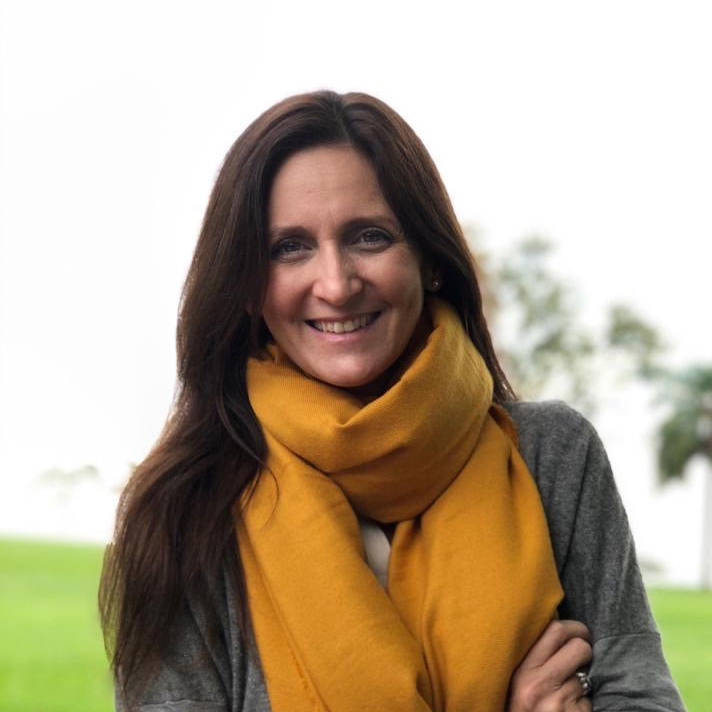 Marisi López
Parks and Communities Coordinator
Marisi López has a degree in Public Relations. She joined the Rewilding Argentina team in 2005, to work on the Iberá Project in her home province of Corrientes. Over the years, she has held different roles that give her a comprehensive view of the project. She currently heads the projects for donation and opening gateways to tourists, including building strategic alliances with local politicians. Marisi is the go-to person for press, civil society, and community stakeholders.
Iberá Park is located in Province of Corrientes, in the northeast of Argentina, and comprises Iberá National Park and Iberá Provincial Park. Deep in this vast subtropical plain is the wetland or estuary, in the midst of a patchwork of varied environments such as the Paraná forest, the Chaco forest, open grasslands, and the Espinal forest.
Iberá Park
Nearly 600,000 of the 1.3 million hectares that make up the Iberá Natural Reserve and basin correspond to the Iberá Provincial Park, created by a decree in 2009 and expanded in 2016 and 2021, while 158,000 belong to Iberá National Park, created by law in 2018 on lands donated by Tompkins Conservation and Rewilding Argentina.
Iberá Park is home to the largest population of strange-tailed tyrants and the second largest of marsh deer. It is also an essential refuge for endangered species such as the maned wolf, the pampas deer, grassland birds that are nearly extinct in Argentina due to agricultural activity, the caiman, and the neotropical river otter.
Due to its size and habitat quality, this conservation area is a unique opportunity for reintroducing locally extinct species such as the giant anteater, tapir, collared peccary, pampas deer, ocelot, giant river otter, and jaguar. In the park, national and provincial park rangers work together to preserve the quality and abundance of these native animals, guaranteeing a high-level tourism experience for visitors.
The park is surrounded by more than 600,000 hectares of private land—including the Iberá Natural Reserve—which are ideal for different types of sustainable economic activities and which also benefit from the tourist draw provided by the strictest conservation area.
Because it comprises protected areas of differing jurisdictions with different responsibilities and managers, we developed a management and public use plan for the provincial park and a management plan for the national park within Iberá. These two different planning processes shared some stages, such as classifying environments, determining conservation values, and defining common projects.
How Iberá Park was Created
Rewilding Argentina, The Conservation Land Trust Argentina, and Tompkins Conservation purchased 158,000 hectares of old cattle ranches that border current-day Iberá Provincial Park, which include habitats not found in the park such as Espinal forests, a dense shrub-and-grass area called the malezal, and some forests.
The goal was to make these places into a national park, which was achieved on December 5, 2018 with the creation of Iberá National Park by law.
With the support of governments and private enterprises, this territory ensures the growth of a new regional economy rooted in nature-based tourism. Wildlife watching-related activities and local cultural values can only be strengthened by the increase in populations of reintroduced species.
Public Access
The creation of Iberá Park necessitated a road network and access points (which we call gateways) to facilitate work and visits to this vast protected area. This infrastructure requires continuous maintenance. As of 2022 we have created ten gateways, constructed 500 kilometers of gravel roads, put in signage for the scenic route, and made improvements to two provincial routes.
Over time we have improved gateway access and made significant improvements to asphalt, while gravel road access from Mercedes and Ituzaingó to Colonia Carlos Pellegrini has been significantly improved. We have paved the new access points to San Antonio and Capivarí and have improved Route 22, which links Concepción del Yaguareté Corá with Chavarría.
Rewilding Argentina makes up part of the Iberá Committee, an interdisciplinary workgroup formed by government agencies and private organizations, which develops and implements infrastructure, promotion, and regulation plans for Iberá Park.
Campground and Gateway Development
Parks must be open and have adequate nature-based tourism infrastructure to succeed as engines for local development. Our gateways, campgrounds, and lodges, which form part of Iberá's Scenic Route, have become iconic in Corrientes. The constructions (mostly built by locals) showcase the value of local architecture through the use of native materials such as straw, rushes, and flagstone.
Conservation and Threat Management
Acquiring the territory is only the first step. We also must monitor the status of key species and appropriately manage invasive species. Iberá is a fragile system, whose ecosystems and species' status is intrinsically linked to the amount of water its soils retain. Anything that affects water supply will have repercussions on the landscape, so any road or canal work, tree planting, or human use of land will affect the marshes.
Since 2007 we have been working in Iberá Park to recover and reintroduce key species in the most ambitious multi-species rewilding program in Latin America.
The loss of wildlife in Argentina was particularly dire in the Province of Corrientes and even more devastating in the area currently protected by Iberá Park. In fact, the territory of Corrientes lost numerous species, including most of its birds and large mammals. 
During this time, the jaguar, the giant river otter, the tapir, the collared and the white-lipped peccaries, the giant anteater, the bare faced curassow, the red-and-green, and the glaucous macaws disappeared from Corrientes and in some cases from all of Argentina and even the planet. Other species, such as the pampas deer, the maned wolf, the ocelot, the lowland paca, and the red-legged seriema experienced huge population decrease.
Since 2007 we have worked in Iberá Park to reverse this biodiversity crisis by reintroducing locally extinct species and augmenting populations of depleted species. We hope to thereby restore Iberá's impressive and diverse wildlife and recover important ecological processes that depend on it.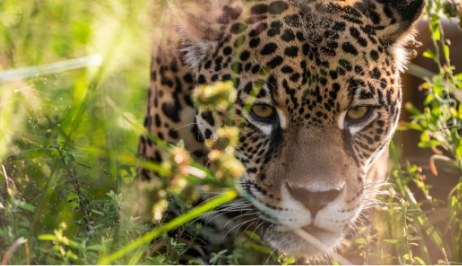 Jaguar
The jaguar (Panthera onca) is the largest feline in the Americas and one of the most threatened mammals in Argentina, with a population estimated at 200-250 individuals in 2018. The species became locally extinct in Correnties in the mid twentieth century due to hunting, alterations to the the environment, and the lack of prey.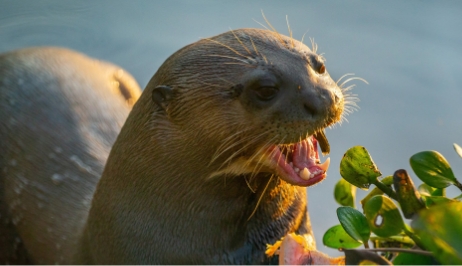 Giant river otter
The giant river otter (Pteronura brasiliensis) is the largest otter species in the world—it can reach up to 1.8 meters in length. It was the apex predator of Corrientes' aquatic ecosystems, where it fed on fish and caimans. Until the middle of the twentieth century, it could be seen in the Paraná River, near the provincial capital. Its presence has been confirmed in Iberá on the basis of a skull found on one of its islands. This spectacular mammal is extinct in Corrientes and Argentina.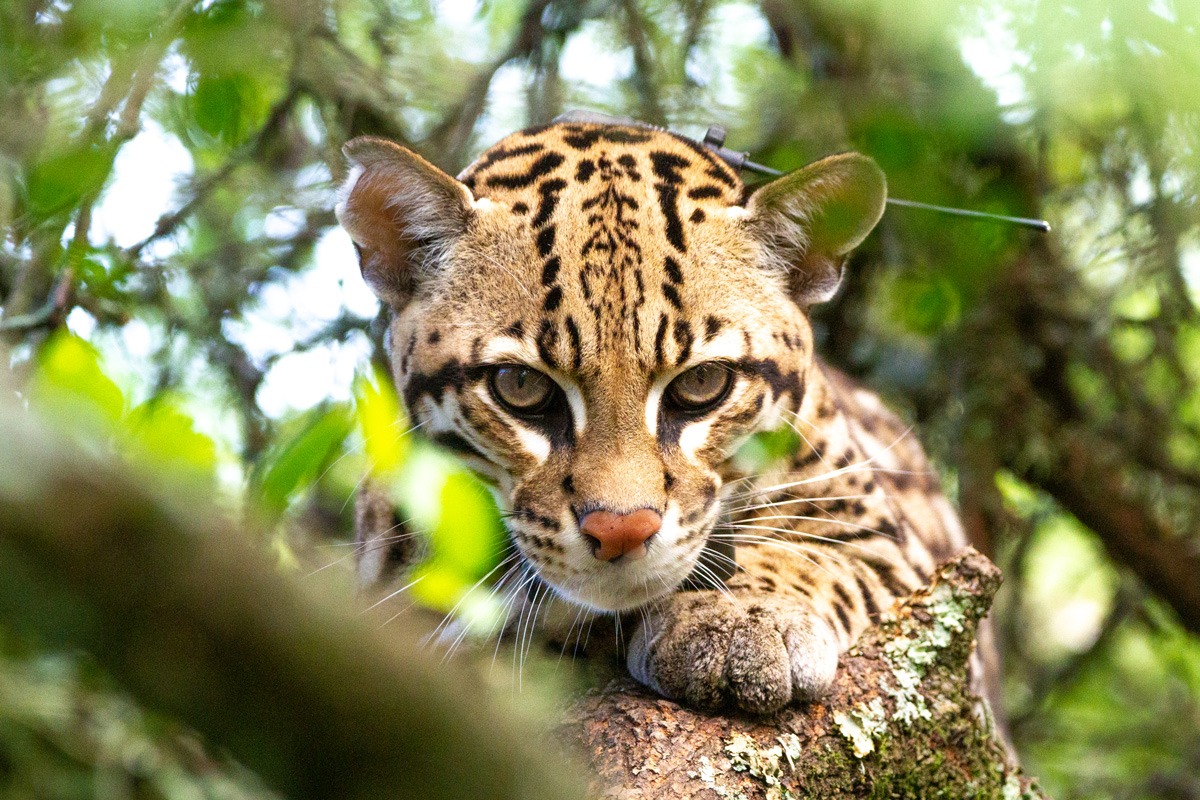 Ocelot
The ocelot (Leopardus pardalis) is the largest of the small spotted felines and the third largest feline in the Americas, after the jaguar and the puma. This species, considered at risk of extinction, was originally found widely in the Americas, but currently survives only from the south of Texas in the United States to the north of Argentina, mainly in the ecoregions of the Yungas, Paraná Forest, and Chaco.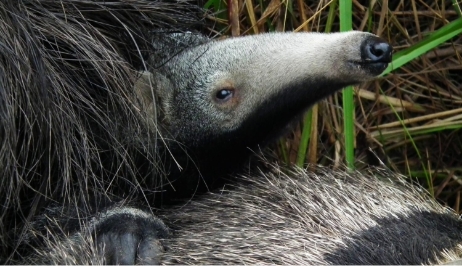 Giant Anteater
The giant anteater (Myrmecophaga tridactyla) has a large, toothless snout with a long tongue that it uses to feed on ants and termites. These mammals, which became extinct in the middle of the twentieth century, can measure up to two meters in length and weigh up to fifty kilograms.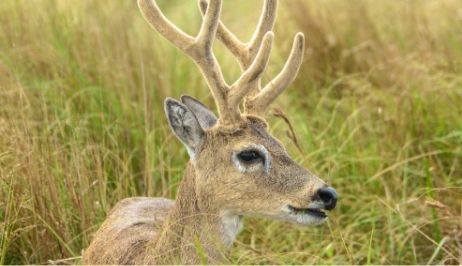 Pampas deer
The pampas deer (Ozotoceros bezoarticus) is an herbivore that was  abundant in Argentina's grasslands. Due to hunting, destruction of its environment, and the introduction of pathogens from domestic cattle their numbers have fallen at an alarming rate.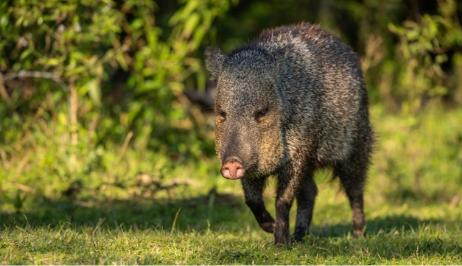 Collared Peccary
The collared peccary (Pecari tajacu) is a distant relative to pigs and fulfills an important role in the dispersal of native fruit and seeds. They became extinct in many parts of the center and north of the country, including the Province of Corrientes where there are now several reintroduced populations in the Rincón de Socorro Reserve, San Alonso, Carambola, San Nicolás, and Yerbalito, inside of Iberá Park.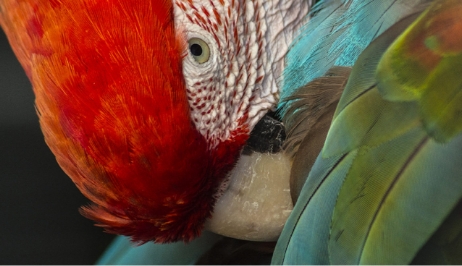 Red-and-green macaw
The red-and-green macaw (Ara chloropterus) is a large bird with eye-catching, colorful plumage, which used to be found in the jungles of northeastern Argentina, including in gallery forests of the Paraná River and nearby areas in the north and center of current-day Iberá Park. Its presence in Corrientes was recorded by numerous explorers. Currently it is extinct nationwide in Argentina. It is a frugivore that plays an important role in the functioning of the jungle by dispersing large native fruit and nuts, including those of trees, palms, and vines. In addition, the species' large size and beauty make it of great interest for tourism.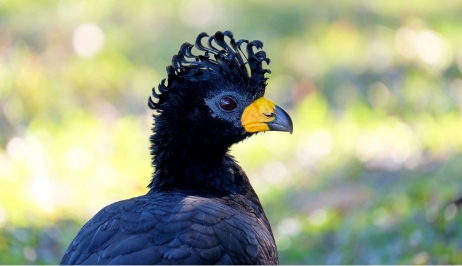 Bare-faced curassow
The bare-faced curassow (Crax fasciolata) is the largest landfowl in Argentina. It once inhabited the northeast of our country, but due to being hunted for meat and changes to the forests where it lived, it disappeared in the provinces of Santa Fe, Corrientes, and Misiones and only survives in small numbers in specific areas of the east of Chaco and Formosa. It is a significant consumer and disperser of fruits and seeds, which helps to regenerate the forests where it lives. We are currently in the initial phase of reintroducing the bare-faced curassow to Iberá Park.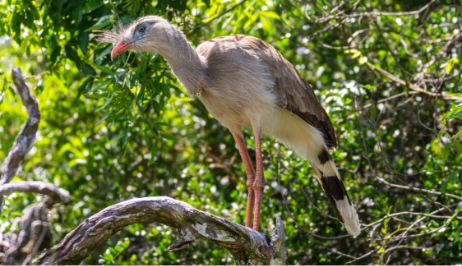 Red-legged seriema
The red-legged seriema (Seriema cristata) is a landbird of open spaces in the Chaco region and the Espinal Forest. It feeds on worms, spiders, insects, and small vertebrates such as lizards, snakes, and rodents, which serves to control their populations.
Iberá is shimmering water, azure skies, vast plains, abundant wildlife, and magical sunsets. It is as surprising as Africa in its potential for large mammal sightings and as traditional as the mate and the Corrientes' chamamé (traditional folk music).
Since 2005 we have been working on creating the tourist destination of Iberá. The scenic route traces more than 1,000 kilometers and connects seven neighboring population centers and ten public-access gateways.
Thanks to the joint efforts of the national and provincial governments, municipal authorities, NGOs, and the media, Iberá is now positioned as one of the main nature tourism destinations in Argentina, where tourism is already a driving force for local development.
Iberá Territorial Brand
In general, when we mention a place, we immediately think of its landscape, an animal, or an experience. Iguazú is waterfalls, the Valdés Peninsula whale watching, Salta, the Spanish mansions and colored ponchos. What does Iberá mean for a tourist? Wildlife, aquatic landscapes, gauchos, capybaras, deer, caimans, and plentiful birdlife. 
Iberá means "shimmering waters" in Guaraní, reflecting the unrivaled beauty of its vast waterways framed by enchanting sunrises and sunsets. The brand "Iberá" arises as a simple brand with great meaning: the presence of grasslands and the strange-tailed tyrant reflect the healthy recovery of the ecosystem.
The Iberá brand has been adopted by local towns, tourism operators, businesses, and people who identify with this great region and want to be on the world stage. Today, being part of Iberá is a point of community pride and lends prestige to local businesses.
Iberá's Scenic Route
The scenic route that borders Iberá links gateways and communities via roadways that were built to show the most striking landscapes and cultural attractions, where the native wildlife and local traditions play a starring role. 
Signage was designed to reinforce this destination's brand identity and blend in the landscape thanks to the use of local techniques and materials, such as flagstone and carved wood.
Promoting Tourism in Iberá
Since the beginning of the project we have worked on promoting the destination in conjunction with Argentina's Secretary of Tourism, the Ministry of Tourism in Corrientes, and the nearby municipalities.The goal is to position Iberá Park at a national and international level and expand tourism visits through the different gateways and experiences. This strategy has led to the filming of numerous far-reaching documentaries, magazine and newspaper articles, and tourism publications.
Iberá Park forms part of the Litoral Ecotourism Corridor, comprised of Iguazú and Moconá in Misiones, Iberá in Corrientes, El Impenetrable in Chaco, Bañado de la Estrella in Formosa, Islas de Santa Fe National Park and Jaaukanigás in Santa Fe, and Pre Delta and El Palmar National Parks in Entre Ríos.
In addition, to help to position the destination at a global level, in 2019 we worked together with the Iberá Committee to publish three main works: an updated edition of the Iberá Park book, an Iberá investor relations guide, which shows different types of production in the province including the economy of nature, and a new edition of the Iberá Tourism Guide, available in our library.
A common economy of nature vision, built together with political and community leaders, is the result of more than twenty years of uninterrupted work in local communities.
In-depth work in the project's region of influence strengthened the environmental and tourism areas within public institutions, developed proposals to improve productive practices, and changed the appreciation of the ecoregion's natural and cultural heritage through long-term communication campaigns.
In order to mitigate negative environmental impacts, we worked with municipalities to resolve urban planning issues and collaborated in the development of public infrastructure, informative signage, and beautification of urban centers to enhance recreational and tourism opportunities.
In addition, we helped locals to regularize their land tenure and access electricity and running water.
We also held training for budding entrepreneurs with nature-based tourism businesses that are strengthened by their proximity to Iberá Park.
Environmental Education
From the beginning of the Iberá project, Rewilding Argentina has supported training for local community leaders to strengthen their role as guardians of the natural and cultural values that make up Iberá's identity.
This training consists of conducting awareness and environmental education tours in the towns and villages along the scenic route. We have presented plays and given talks in schools, participated at stands in fairs, and produced promotional and educational material in Spanish and Guaraní, which students, teachers, and the general public still use.
Additionally, through different publicity campaigns and events, we teach the communities about rewilding and the economy of nature so they can learn about and participate in the work we do to recover local wildlife.
It is therefore important to point out that the species reintroduction projects that we carry out in Iberá are possible thanks to the support from local communities and their training on environmental issues.
A transformative path towards local entrepreneurship
Training local leaders and entrepreneurs is an integral part of the work we do in Iberá and all of our projects. Implementation consists of different activities, cultural exchange visits to established nature-based tourism destinations, and specific courses with renowned experts.
We also work together with the Iberá Committee to develop classes and workshops related to the economy of nature model and the possible tourism offers that could be developed in and near the park, such as serving local dishes, lodging, horseback riding, boat trips, and hiking.
In 2019 we worked with twenty-nine new entrepreneurs related to Iberá Park. Through the years we have also assisted in the formation of entrepreneur-based groups such as Iberá Cooks.
Finally, we helped to prepare materials for new tertiary (post-high school) educational programs in tourism and gastronomy so that potential students do not need to leave the area to study these topics.
Carambolita Nature Club
The Carambolita Nature Club is an initiative of Rewilding Argentina that provides tools to young entrepreneurs from Concepción del Yaguareté Corá—a community neighboring Iberá Park—to develop nature-based tourism activities. Through nature outings at different park gateways, young people from the community are trained in different techniques and areas to become long-term entrepreneurs and guardians of Iberá.
Producer Associations with Territorial Branding
Forming associations and cooperatives motivates locals to organize and share experiences that help to begin and sustain activities over time. Government programs help them acquire supplies and other investments to launch a new business, in addition to training on food handling, how to form suite guides, and dealing with tourists.
Iberá Cooks
Protected areas lend their value to local products and services through the denomination of origin. An example is the Iberá Cooks, a network that connects more than 130 mostly female cooks and producers, who make dishes and products that reflect their cultural identity using the Iberá brand to strengthen their products and services. 
Over time, they have built their experience and reputation. Today the Iberá Cooks are in demand at events, presentations, and high-end national fairs, and their products are included in festive baskets and bags that are sold. Their food truck (a mobile store) is an attraction that drives from town to town and is taking the food of Iberá to the next level of food tourism.
Iberá Artisans
Iberá Artisans is a social-productive project that seeks to raise the value of the cultural heritage of traditional artisan products, folk art, and other artisanal items that represent the region's nature and culture. 
Through their products, the artisans show the relationship between the landscape and their culture as a way to keep their traditions alive, value local wildlife, and generate meaningful jobs. 
Part of the state policies of the provincial government include promoting a master plan to develop Iberá Park, as prepared by the Iberá Committee, which is aimed at strengthening and developing ecotourism in the region on the basis of its cultural and natural heritage.
As of 2022, the program consists of more than sixty artisans who receive trainings on commercializing and technical assistance on working with local materials such as a long-bladed grass called espartillo, palms, and a local climbing plant called ysipó, as well as with raw, hand-spun wool.
Well-being Assessment
In the towns of Colonia Carlos Pellegrini and San Miguel, we worked together with Habitat Humanitas and the National Ministry of Social Action to carry out a community diagnosis with regard to the seventeen sustainable development goals. Here we measured the well-being and the most pressing needs of the localities' inhabitants according to OECD (Organization for Economic Cooperation and Development) goals.
The purpose of this diagnosis was to build, together with key community stakeholders, a productive and social plan that would allow us to aim towards a new economy through the promotion of infrastructure work and actions. This vision is included in a book prepared with the participation of the municipality.
In Concepción de Yaguareté Corá we worked specifically with the rural inhabitants of Carambola and Ñupy to integrate them into tourist activities. Today they find themselves in  the best place and shape to receive visitors.