We work to reverse the extinction crisis and promote local restorative economies embedded in natural, complete, and functional ecosystems.
We are united in our commitment to restore natural ecosystems, to respect the intrinsic value of ALL species and to the goal of establishing development models that allow rural communities to live in harmony with the natural world.
Rewilding Argentina is a foundation created to confront and reverse the crisis of species extinction and the resulting environmental degradation, to restore the healthy functioning of ecosystems and to promote the well-being of local communities.
Formed in 2010 by Argentinian conservationists and activists, Rewilding Argentina is an heir to the legacy of Tompkins Conservation. We are continuing to carry out their work and vision, collaborating with national and provincial governments, with conservation and social organizations, both national and international, and with Argentinian and foreign philanthropists.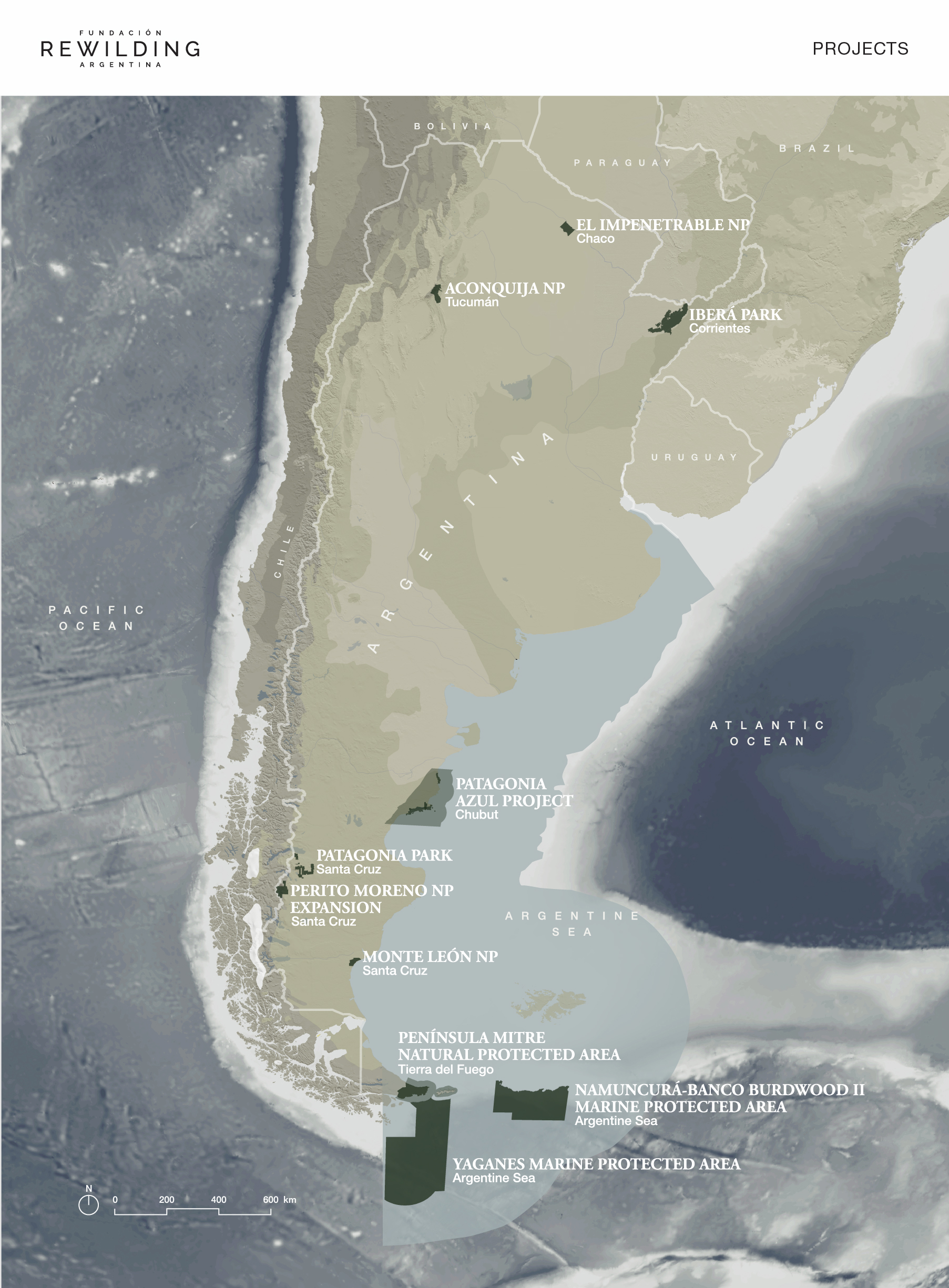 9
NATIONAL AND PROVINCIAL PARKS CREATED OR EXPANDED
Iberá | El Impenetrable | Aconquija | Patagonia | Perito Moreno | Monte León | Yaganes | Namuncurá Banco Burdwood II | Cueva de las Manos
407.000
HECTARES DONATED FOR PARKLANDS CREATION
1.000.000
HECTARES PROTECTED ON LAND
100.000
KM2 OF ARGENTINE SEA PROTECTED
14
SPECIES WITH REINTRODUCTION PROJECTS
Jaguar | Giant river otter | Giant anteater | Collared peccary | Red-and-green macaw | Bare-faced curassow | Red-legged seriema | Red-footed turtle | Lowland paca | Marsh deer | Wolffsohn's viscacha | Coypu | Ocelot
10
SPECIES WITH ACTIVE MANAGEMENT OR RESEARCH PROJECTS
Puma | Guanaco | Austral rail | Darwin's rhea | Huemul | Tapir | Maned wolf | South American fur seal | Broadnose sevengill shark | School shark
4
ECOREGIONS BEING IMPACTED IN ARGENTINA
Iberá wetlands | Great Chaco | Patagonian steppe | Argentine sea
9
PROJECTS TO CONTROL OR ELIMINATE INVASIVE ALIEN SPECIES
Feral pig | Chital | Chinaberry | Privet | Feral rabbit | Feral cat | Feral horse | Willow | Tamarisk
4
NATURE-BASED TOURISM DESTINATIONS BEING DEVELOPED
Iberá | El Impenetrable | Patagonia | Patagonia Azul
11
PARKS ENTRANCES WITH PUBLIC ACCESS AND INFRASTRUCTURE
Laguna Iberá | Cambyretá | San Nico
Laguna Iberá | Cambyretá | San Nicolás | Carambola | La Ascensión | Cañadón Pinturas | La Armonía | Nueva Población | La Fidelidad | Los Palmares | Isla Leones
119
ENTREPRENEURS BY NATURE
Rewilding Argentina is led by a management team which develops the necessary strategies to achieve our long-term objectives. Our team works in the field, traveling constantly across the length and breadth of the country in order to regularly visit and advance each project.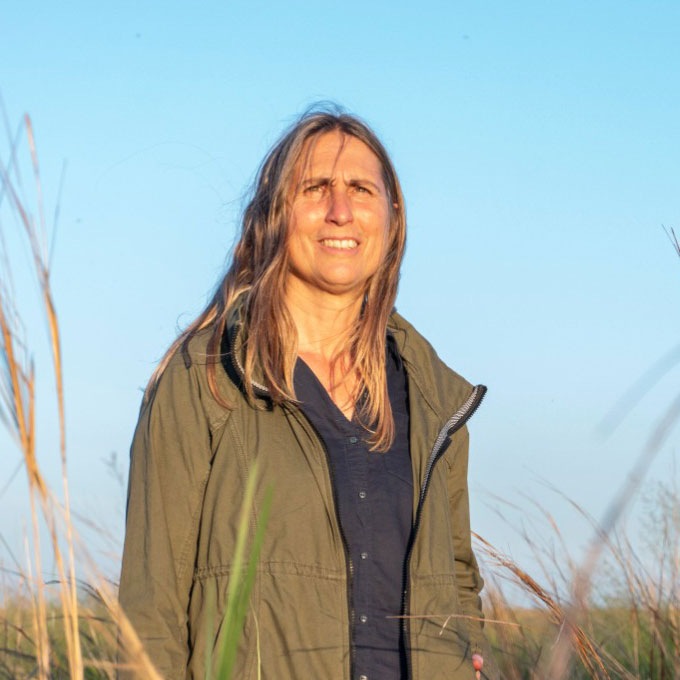 Sofía Heinonen
Executive Director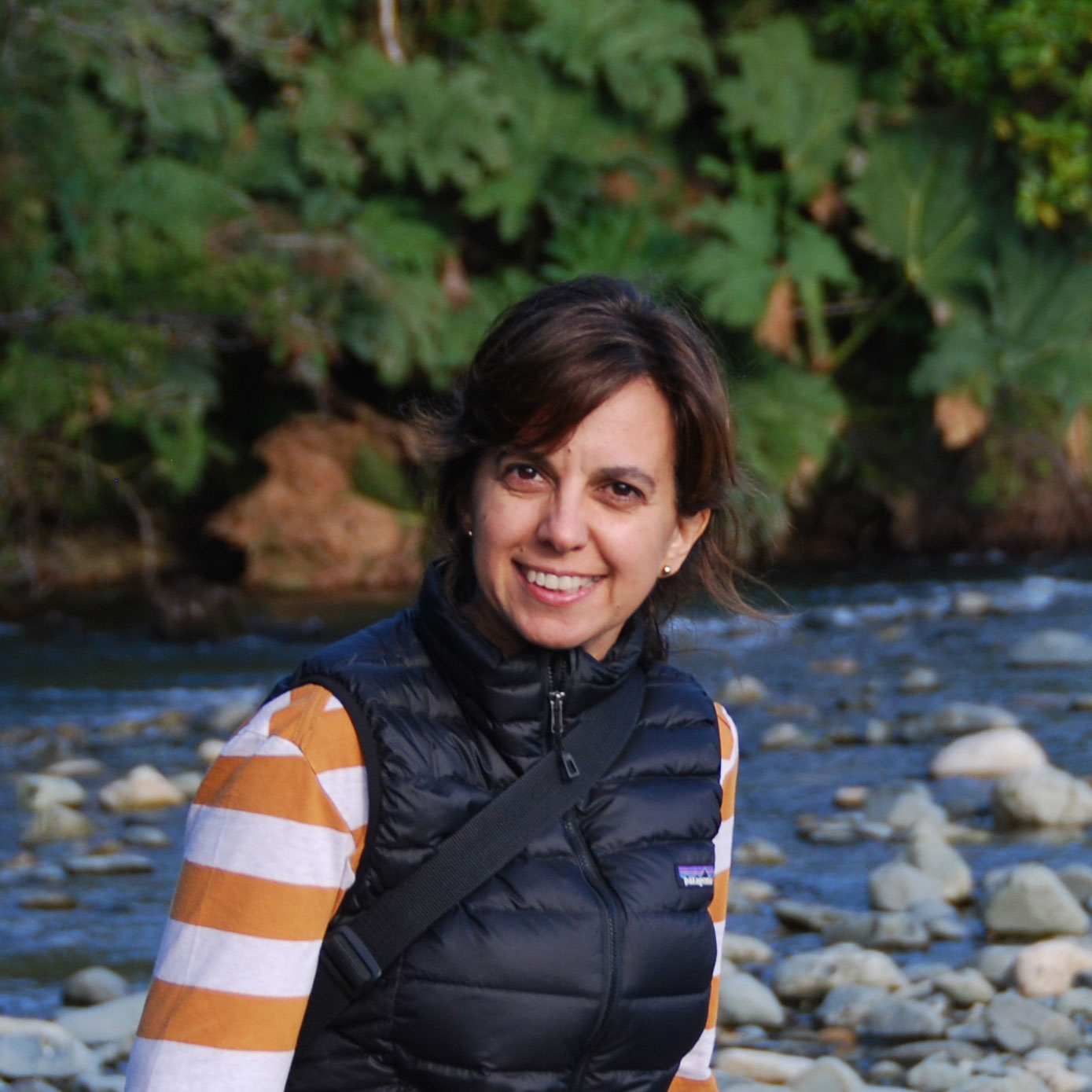 Laura Fernández
Director of Finance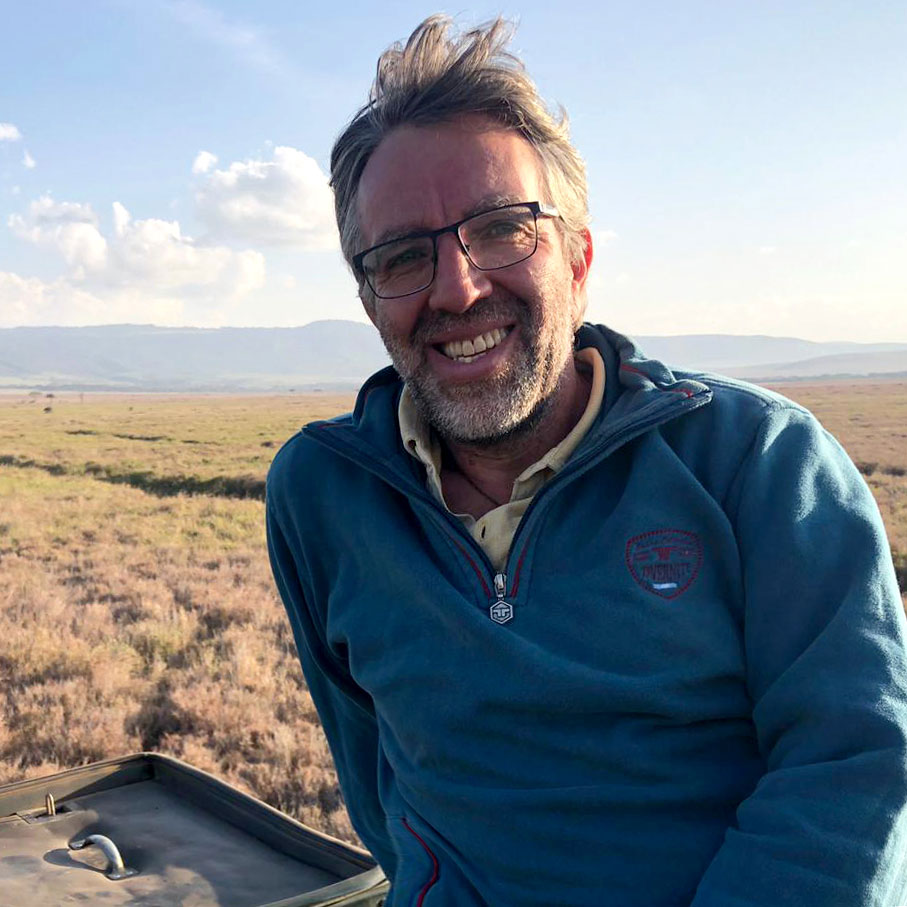 Sebastián Di Martino
Conservation Director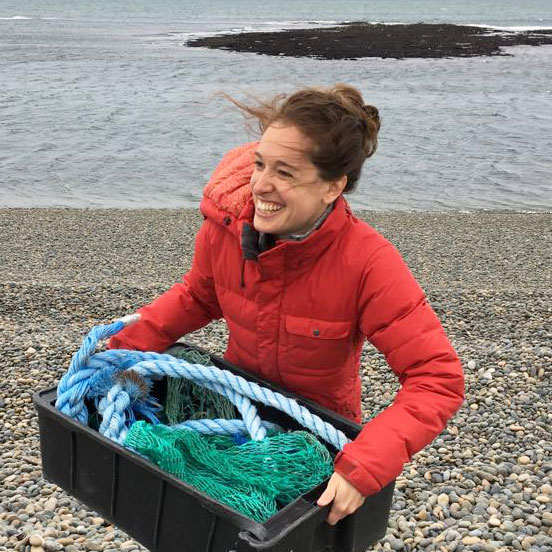 Lucila Masera
Director of Strategy and Partnerships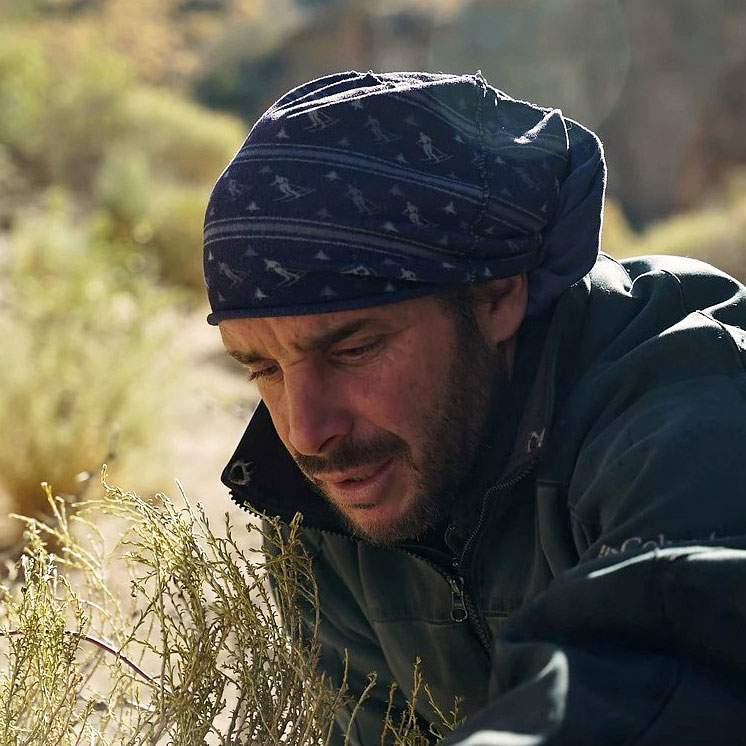 Emiliano Donadío
Scientific Director
Our multi-disciplinary teams live in the areas where we have our projects. This allows us to deeply know and understand the environments where we work, to make accurate diagnosis of threats that they face and to intervene rapidly and effectively in order to assure their restoration and conservation.
1992
Douglas Tompkins creates The Conservation Land Trust and begins to work on large-scale projects in South America.
1997
The Conservation Land Trust Argentina begins its first project in the country with the acquisition of San Alonso Ranch, an island of 11,400 hectares (28,170 acres) in the heart of the Iberá wetlands. In the following decade, CLTA acquires about 142,000 more hectares (351,000 acres) for conservation and environmental restoration.
2004
The land that became Monte Leon National Park in Santa Cruz Province is donated.
2007
The team of Rewilding Argentina reintroduces the first giant anteaters to Iberá. Soon after, the team begins the reintroduction of pampas deer, collared peccaries, and red-and-green macaws.
2009
Flora and Fauna Foundation is born.
2012
The construction works of the Jaguar Reintroduction Center (CRY) begin in San Alonso Island, Iberá.
2014
Along with other organizations, the donation of the La Fidelidad Ranch is made possible for the creation of El Impenetrable National Park, Chaco Province.
The El Rincón Ranch, which enlarges the territory of Perito Moreno National Park in Santa Cruz Province, is donated.
2015
The land that made possible the creation of Patagonia National Park in Santa Cruz Province is donated.
Tobuna, the first jaguar of the group whose cubs will repopulate Iberá, arrives to the CRY.
2018
The land to create Aconquija National Park in Tucumán Province is donated.
The land to create Iberá National Park in Corrientes Province
is donated.
Rewilding Argentina helps to pass the legislation that creates the National Marine Parks Yaganes and Namuncurá Banco Burdwood II.
Arami and Mbarete are born at the CRY; they are the first jaguars to be born in Corrientes more than seventy years after the species extinction in the Province.
2019
Rewilding Argentina donates the land to create Cueva de las Manos Provincial Park, in Santa Cruz Province.
2021
The first jaguars are released into Iberá Park, eleven years after the beginning of the species' reintroduction project and seventy years after the extinction of the species in Corrientes.
2021
Rewilding Argentina donates the lands to increase the area of Iberá Provincial Park in more than 50,000 hectares.
2022
Península Mitre Natural Protected Area is created, a conservation landmark achieved thanks to the work of the people of Tierra del Fuego, provincial legislators, and nature conservation organizations—Rewilding Argentina among them.
We collaborate with the followings government agencies